I'd Tap That: The Benefits of EFT
I first discovered tapping—or the Emotional Freedom Technique (EFT)— in a small wellness shop in Jersey City.
"Chilltown" was just beginning its transition from the red-headed stepchild* across the Hudson River to the hottest new wannabe-but-technically-not-a-borough-of-New York City that it has become.
At the same time, my little family was going through a transition of our own. We left the posh, crowded chaos of Tribeca for much more space, a vibrant, friendly, local vibe and a beautiful park next to our new home in Jersey City. However, soon after we moved across the Hudson with our one year-old, my relationship with my ex began its long, painful unravel.
My health followed suit. A terrifying scare involving severe and unyielding abdominal pain landed me in the emergency room, but traditional Western doctors couldn't identify the problem and dismissed me.
Feeling tossed aside by Western medicine, I began what became a beautiful journey of learning and self-healing. I visited acupuncturists, massage therapists, energy workers, nutritionists and personal trainers to care for and calm my frazzled, wounded spirit and suffering body.
I very slowly began to put pieces of my health puzzle together. My incredible massage therapist, Pamela Stewart of Internally Happy, was able to identify energy blockages on meridian points related to matters of the heart, grief and digestion, offering one piece of the puzzle. An energy healer and friend, Michael Ventura of Corvus Medicine, was able to identify a massive blockage around my throat chakra, correctly indicating that I had silenced my voice for too long. I entered the office of a new acupuncturist in hysterical tears and left in a state of fluid relaxation.
And the week before we left Jersey City, bound for New Hampshire (and a cross-country RV trip), I stopped into a little wellness shop that I frequented to say goodbye to the owner, a thoughtful, sweet human by the name of Jim. He asked how I was feeling about yet another life transition and I reflected that I was somewhat excited, but mostly anxious, unsettled and unsure of what was to come. He asked if I was open to try a technique he practiced, and I agreed. We sat down together and he began to show me EFT, or "tapping."
Jim repeated a series of affirmative phrases while tapping on various points on his head, chest and wrists, and I copied what he was doing. I felt a noticeable shift after our quick session, even though I was somewhat unsure of what Jim and I had just done.
He recommended that I keep it up, but I (regret now that I) didn't continue the practice at the time.
Years later, now a single mama and still on my journey of slow-and-steady healing, I picked up the book Radical Self Love by Gala Darling.
Gala is a fabulous, larger-than-life personality and her book is no different. It tells the story of her own healing journey, and offers the tricks and techniques that she used to overcome pretty severe self-loathing—and the unhealthy habits and behaviors that can accompany such feelings—to evolve into the magnificent magenta pink monarch she is today.
One of the techniques that she loves, and emphatically recommends for just about everything, is tapping.
What is tapping, or EFT, and what are its benefits?
Tapping, or EFT, is a form of alternative energy therapy that leverages meridian points to remove energy blockages and restore balance to the body. It has been successfully leveraged to manage anxiety, depression and stress and to heal symptoms of pain, sickness and disease. It has also been used to effectively treat addictions as well as PTSD, and as such, is an authorized treatment for war veterans.
Wait, back up. First of all, what are meridian points?
Well, Traditional Chinese Medicine believes that there is/are (a) pathway(s) through which "qi," or life energy, flows through the body. This meridian system must be clear and balanced and our qi must flow unobstructed for optimal health. Stress or trauma can trap negative emotions that cause blockages at points along the pathway and by identifying and removing blockages at these points, one can restore balance to different functions of the body. Thus, my massage therapist rightly identifying blocks in my heart and digestion when I was going through relationship trauma that was wrecking havoc on my gut.
This concept is leveraged in practices and healing modalities such as qigong, acupuncture and EFT, all of which seek to free up the blockages that are holding us back or harming our health, and help our qi to flow.
Fascinating, right?
I think so! Naturally, Western medicine and science have no conclusive evidence to prove the existence of the meridian system nor how it works. They also cannot disprove its existence. I've learned along my journey to have faith and trust in the mysterious unknown of the ancient healing arts that view our bodies, minds and spirits as a cohesive system and not a disjointed collective of individual parts. If that resonates for you, too, pick it up. If not, put it down. You're in control.
But it can be incredibly powerful and it is important to learn how to, well, tap in to this technique with an experienced EFT practitioner. And luckily for those in the Monadnock Region, there is a practitioner among us.
Sarah Aborn, Chieftess and Empress of SHAKTI Healing Arts Center and a member of the Sága Circle, is an Embodiment Coach who draws from two decades in the healing arts to help people find freedom in their bodies, mind, and emotions.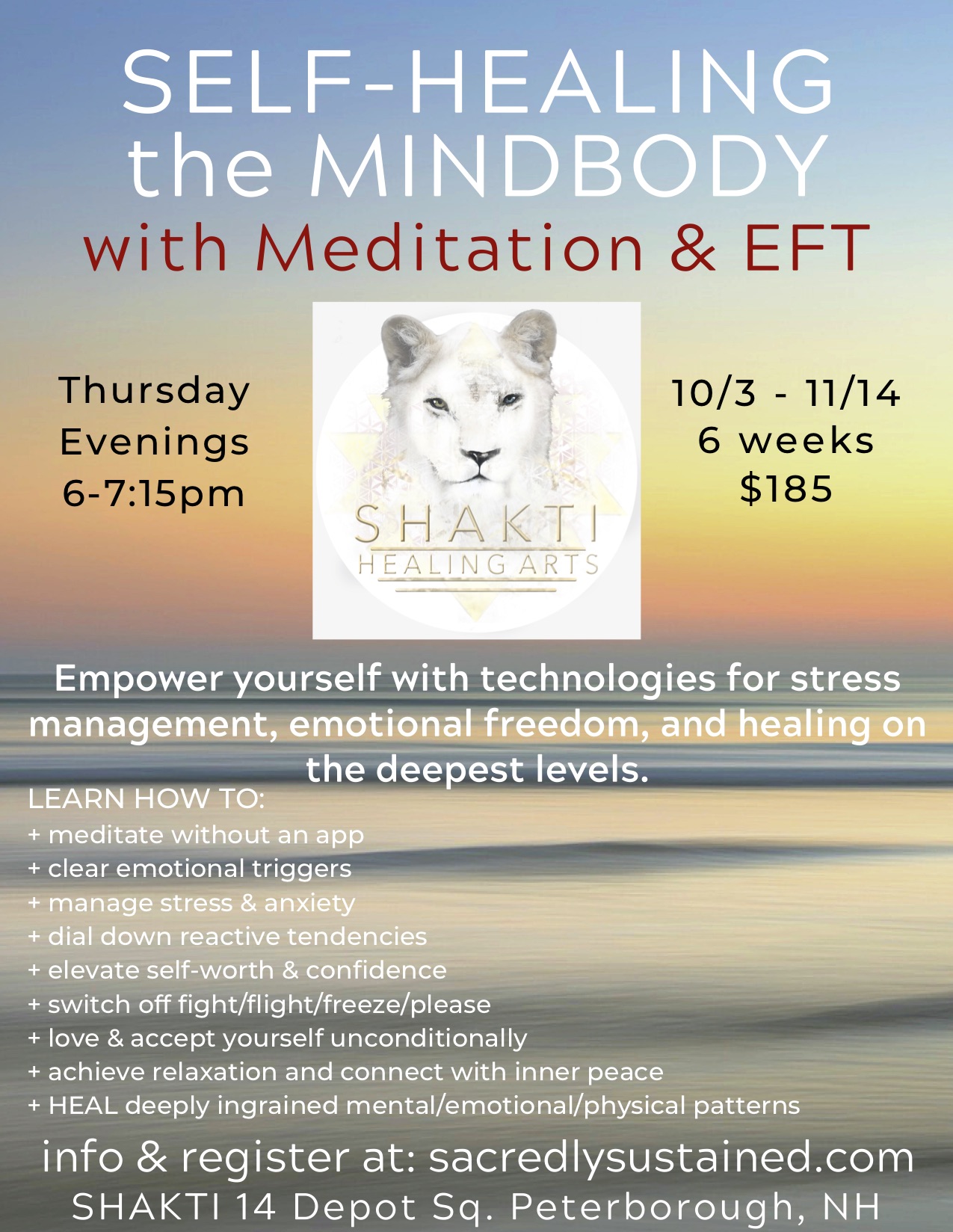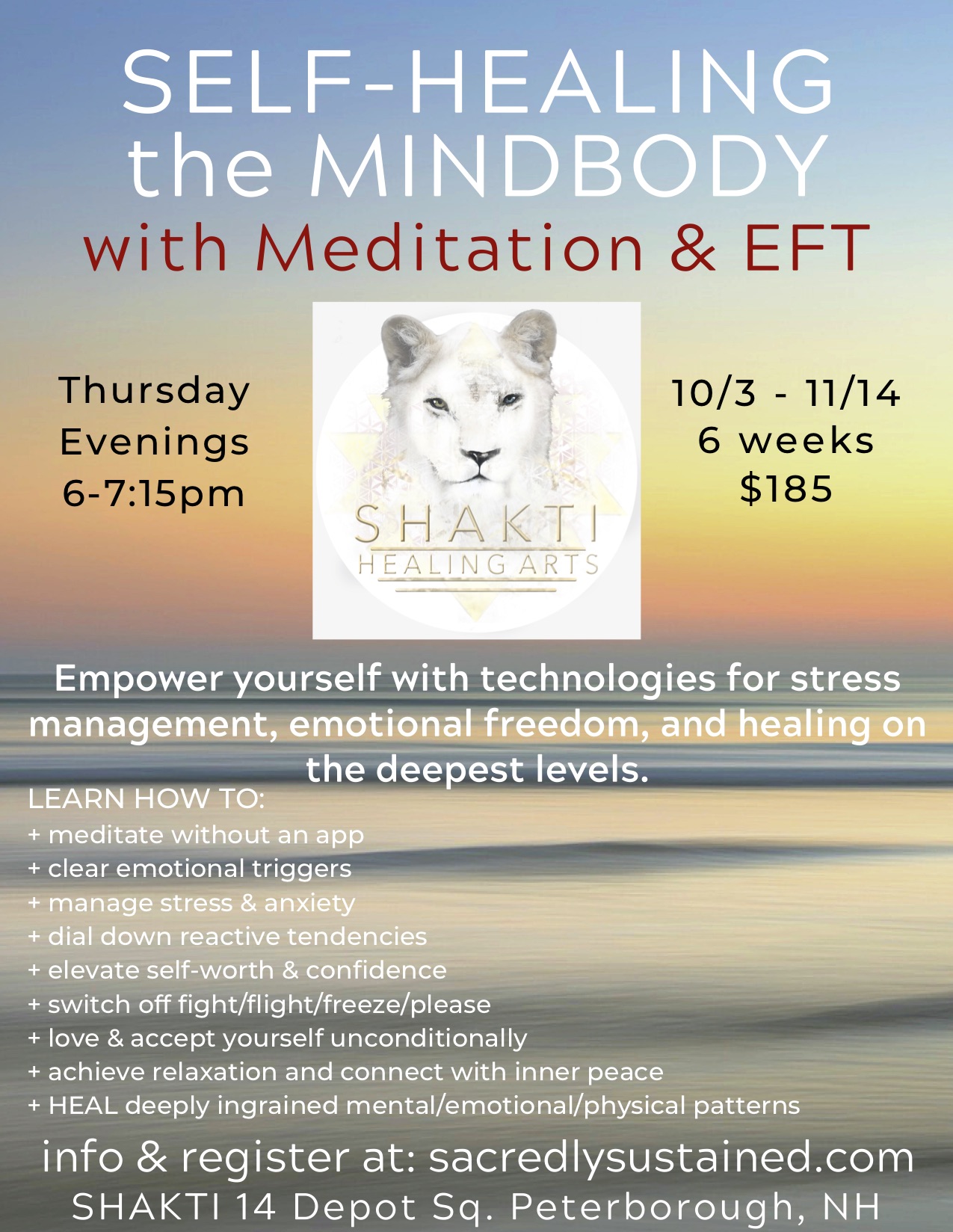 Sarah offers private EFT sessions, but she also has two upcoming group classes that will help the EFT-curious in the Monadnock Region to begin a path of lifelong self-healing.
The first is an "Intro to EFT Tapping" workshop on Sunday, September 29 at SHAKTI in Depot Square (Peterborough) from 1-3:30 p.m., where Sarah will offer these lifelong tools for stress relief and well-being. This workshop will be an awesome opportunity to dip your toe into the waters of EFT and learn how to tap in a safe, guided environment.

The second is "Self-Healing the Mindbody with Meditation and EFT" This group class will empower you with techniques for stress management, emotional freedom and healing on the deepest levels. Learn to: meditate without an app, clear emotional triggers, dial down reactive triggers, elevate self-worth and confidence, love and accept yourself unconditionally and so much more. This six-week series—October 3 through November 14—will be held on Thursday evenings from 6-7:15 p.m. at SHAKTI in Depot Square.
For more information on either class, reach out to Sarah at sacredlysustained@gmail.com or 603-930-0127. To book a private session that will allow you and Sarah to focus on your personal journey and answer your individual questions in more detail and depth, click here.
I was, and still am, so thrilled to have met Sarah and for the opportunity to tap back in (#cantstopwontstop) to this powerful practice. Now in a far different place than when I first discovered tapping—one full of peace, love, purpose, hope, trust and happiness—I look forward to reintegrating this technique into my daily practice to help strengthen my emotional foundation, quell any old, lingering, resistant patterns that no longer serve me, and reduce stress.
In my years on this beautiful pebble, I've learned that sources of stress never cease, so neither do our personal healing journeys. Progress is made, and life becomes more joyful in proportion to the effort, but the journey is everlasting.
If you're still unsure about tapping, or whether you are ready to invest in a class or private session, try this free session with Gala Darling online. If you are moved by the experience, or you would like to try this powerful healing modality right here in Our Town, I highly recommend connecting with Sarah in person to tune in to your heart, soul, mind and body and what you—all parts of you—need.
* No offense to any red-headed stepchildren out there.
Disclaimer: Please note that I am an Amazon Associate and may receive nominal compensation for resources that you purchase on Amazon through my recommendation, such as Radical Self Love by Gala Darling. Thank you for your support.